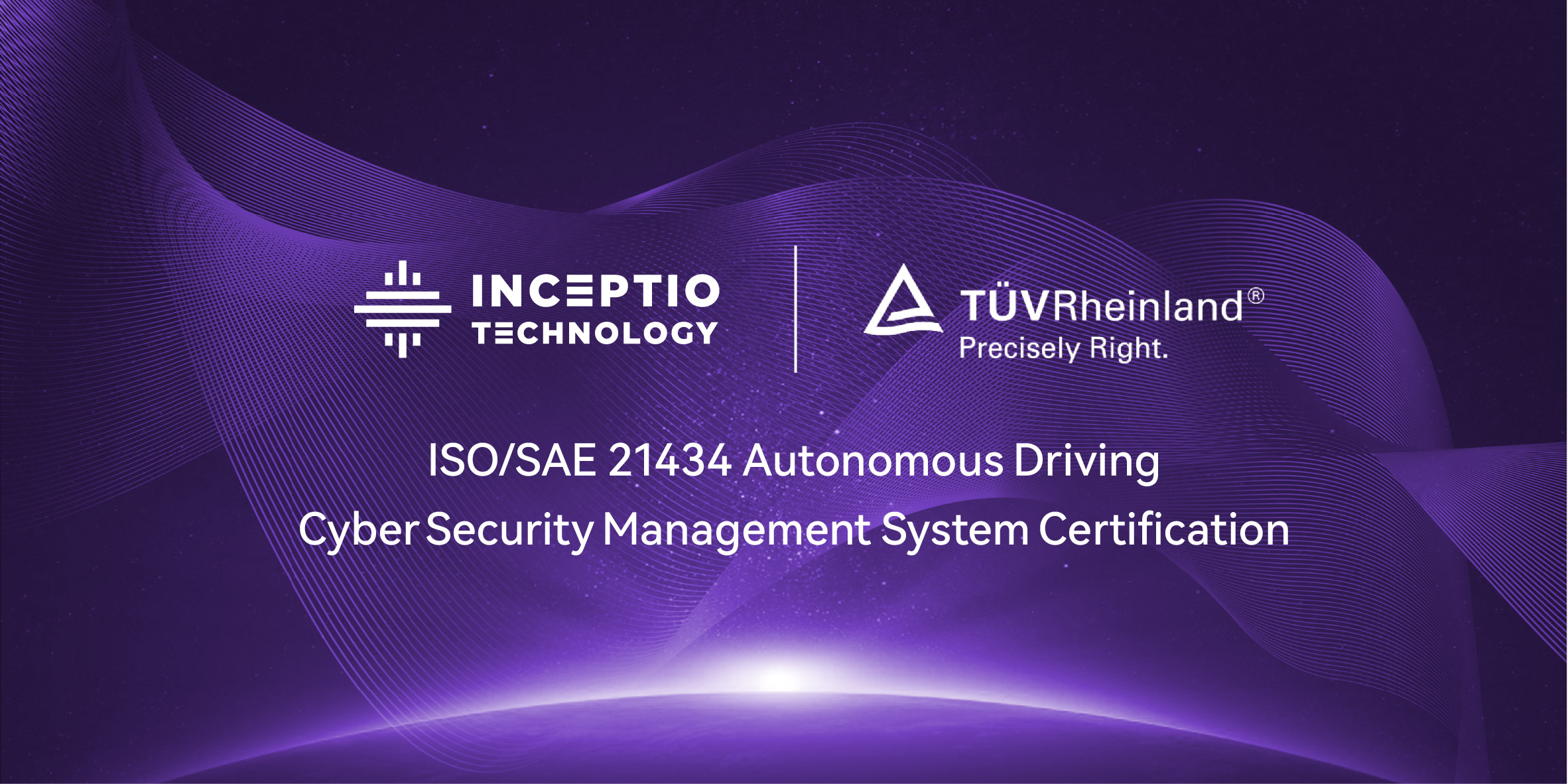 Inceptio Technology Achieved ISO/SAE 21434 Autonomous Driving Cyber Security Management System Certification
2022-10-18
On October 18, 2022, Inceptio Technology achieved the industry's first ISO/SAE 21434 Autonomous Driving Cyber Security Management System Certification issued by the German TÜV Rhin (hereinafter referred to as "TÜV Rhin").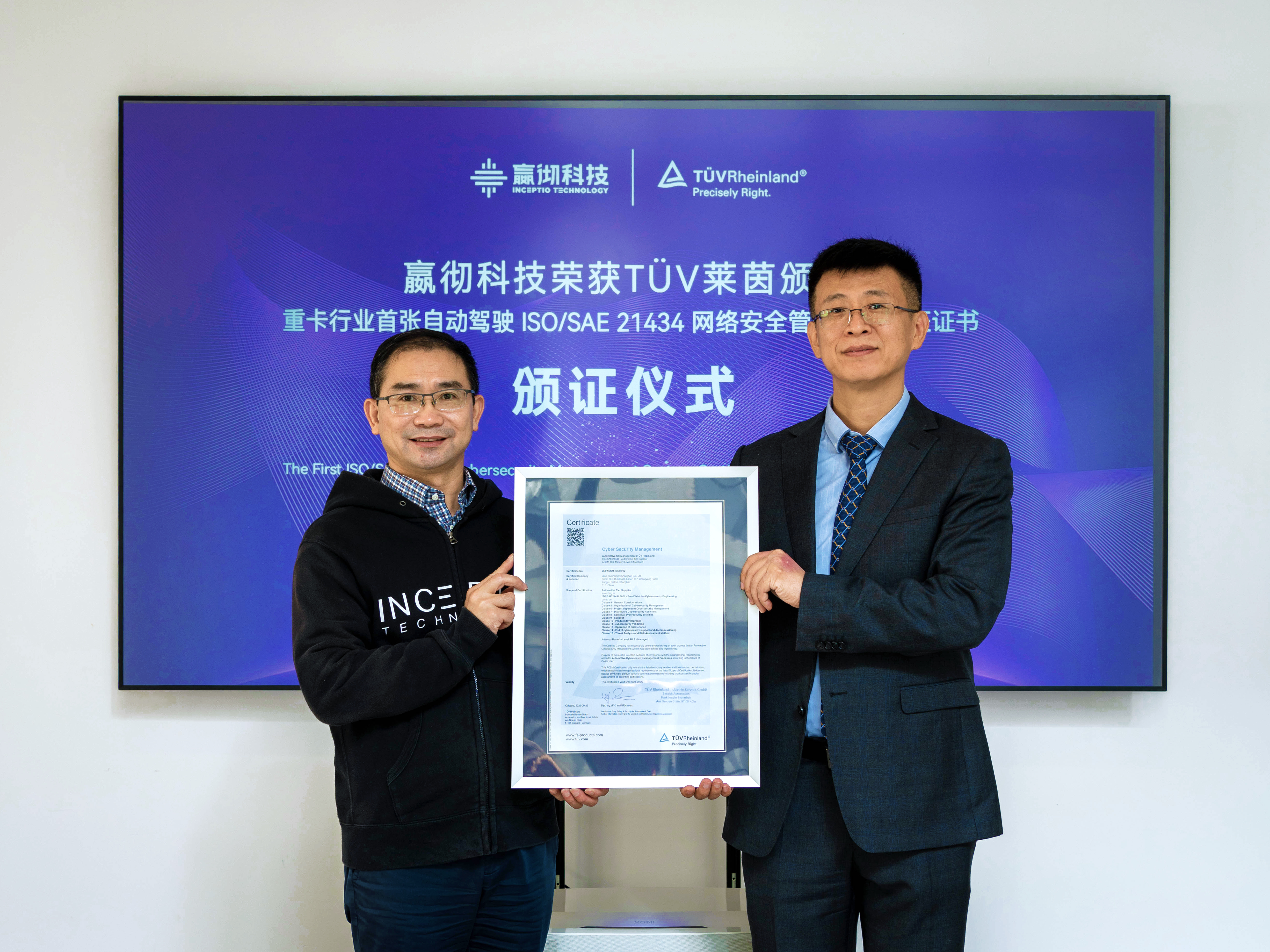 Executive Vice President of Inceptio Technology Huang Gang (left) and General Manager of TÜV Rhin Greater China Zhao Bin (right) attend the certificate presentation ceremony
ISO 21434 Automotive Cyber Security Standard is a global standard formulated by the International Organization for Standardization, and obtaining this certification marks that Inceptio Technology has established a complete product development management system that meets international standards for cyber security in the entire process of autonomous driving technology development, testing, and verification. As of now, Inceptio Technology has obtained ISO 9001 Quality Management System Certification, ISO 26262 ASIL D Functional Safety Process Certification and ISO/SAE 21434 Cyber Security Management System Certification. 
Right from its inception, Inceptio Technology has incorporated security culture into its corporate DNA. The concept of "safety above all" runs through Inceptio Technology's entire product cycle from research and development to mass production. The company requires everyone to always adhere to risk control and security assurance, and implement safety methods that have been tested over the long term. 
 In specific practice, Inceptio Technology designed a comprehensive cyber security program for intelligent heavy-duty vehicles, covering clouds, pipes, vehicle entrance, and onboard networks. It can respond to various commercial vehicle application scenarios attacks, fully protect the password security, data security, communication security and system security of the autonomous driving system. At the same time, Inceptio Technology teamed up with Tencent Keen Labs to conduct safety testing and verification on the entire vehicle and autonomous driving system, which included simulating attacks by top hackers on vehicle systems and covering multiple types such as contact, proximity and remote. This verified the information security capability of the vehicle. 
The General Manager of TÜV Rhin Greater China Zhao Bin said: " Inceptio Technology always puts cyber security at the most important position while pursuing higher performance and more advanced technology. The acquisition of cyber security management certification certificates proves Inceptio Technology's determination to practice international standards. It provides a solid foundation for the development of advanced autonomous driving technology." 
Executive Vice President of Inceptio Technology Huang Gang said: "The most important requirement for the autonomous driving system is sufficient reliability and safety. During the mass production process, Inceptio Technology always adheres to the principle of safety first, strictly complies with the ISO/SAE 21434 development methodology, builds an industry-leading information security development system, and constructs an information security program covering the entire life cycle of product definition, research and development design, and production and operation. It leads the best practices in commercial vehicle information security. In the future, Inceptio Technology will continue to provide safe and reliable autonomous driving products and work with industry partners to safeguard automotive cyber security."