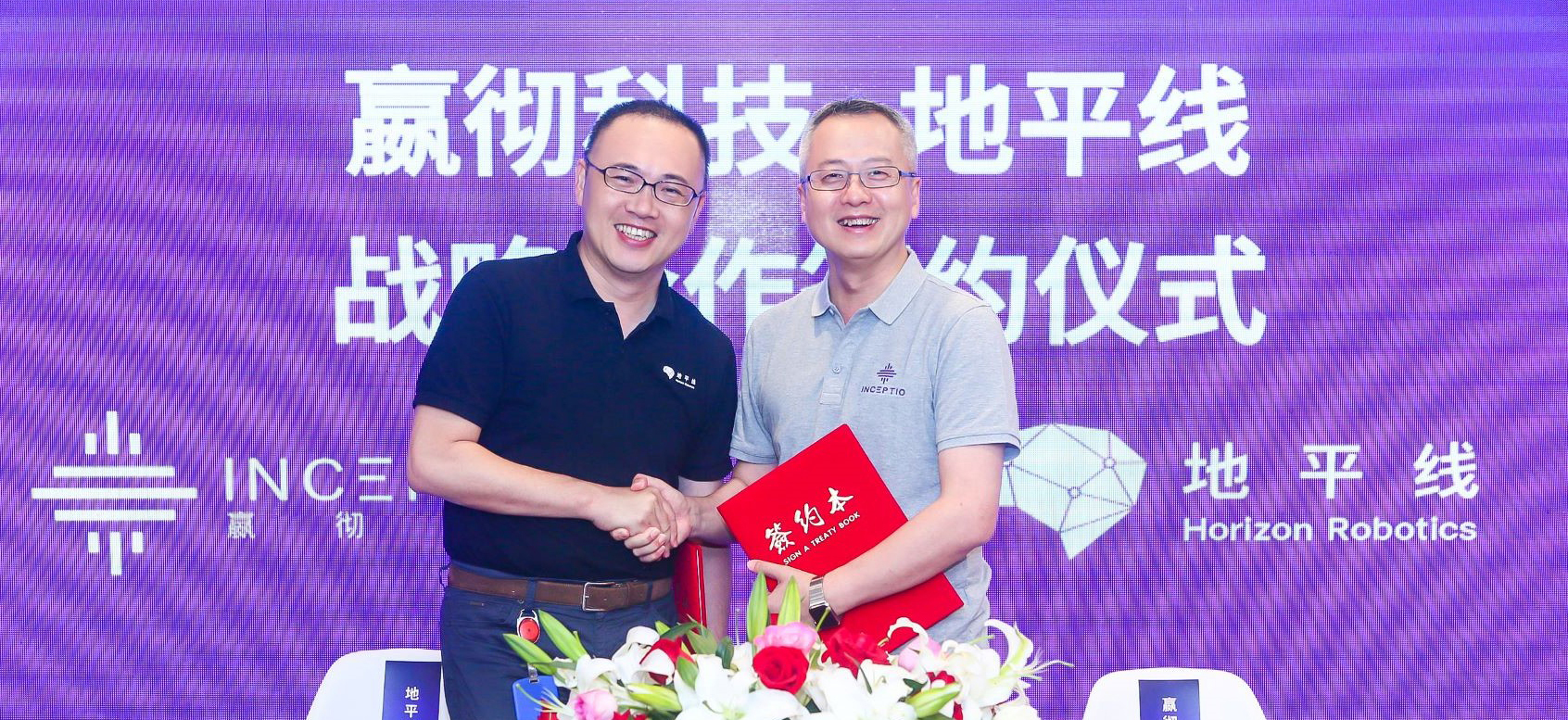 Inceptio Technology and Horizon Robotics Announce Strategic Alliance to Accelerate Automotive Grade Volume Production
2019-09-24
Horizon Robotics Joins Innovation Center and Reaches Strategic Cooperation with Inceptio Technology
The Innovation Center welcomes in Horizon Robotics as its latest member. Horizon Robotics is a pioneer in the area of Artificial Intelligence (AI) chips for Smart Mobility applications. Leveraging on the combination of hardware and software, it has developed high-performance, cost-effective and low-power edge AI chips to provide a solution of chip + algorithm + cloud. Horizon Robotics recently unveils China's first auto-grade edge AI chip JourneyTM 2 at both the World Artificial Intelligence Conference and Frankfurt Motor Show and attracted significant amount of attention.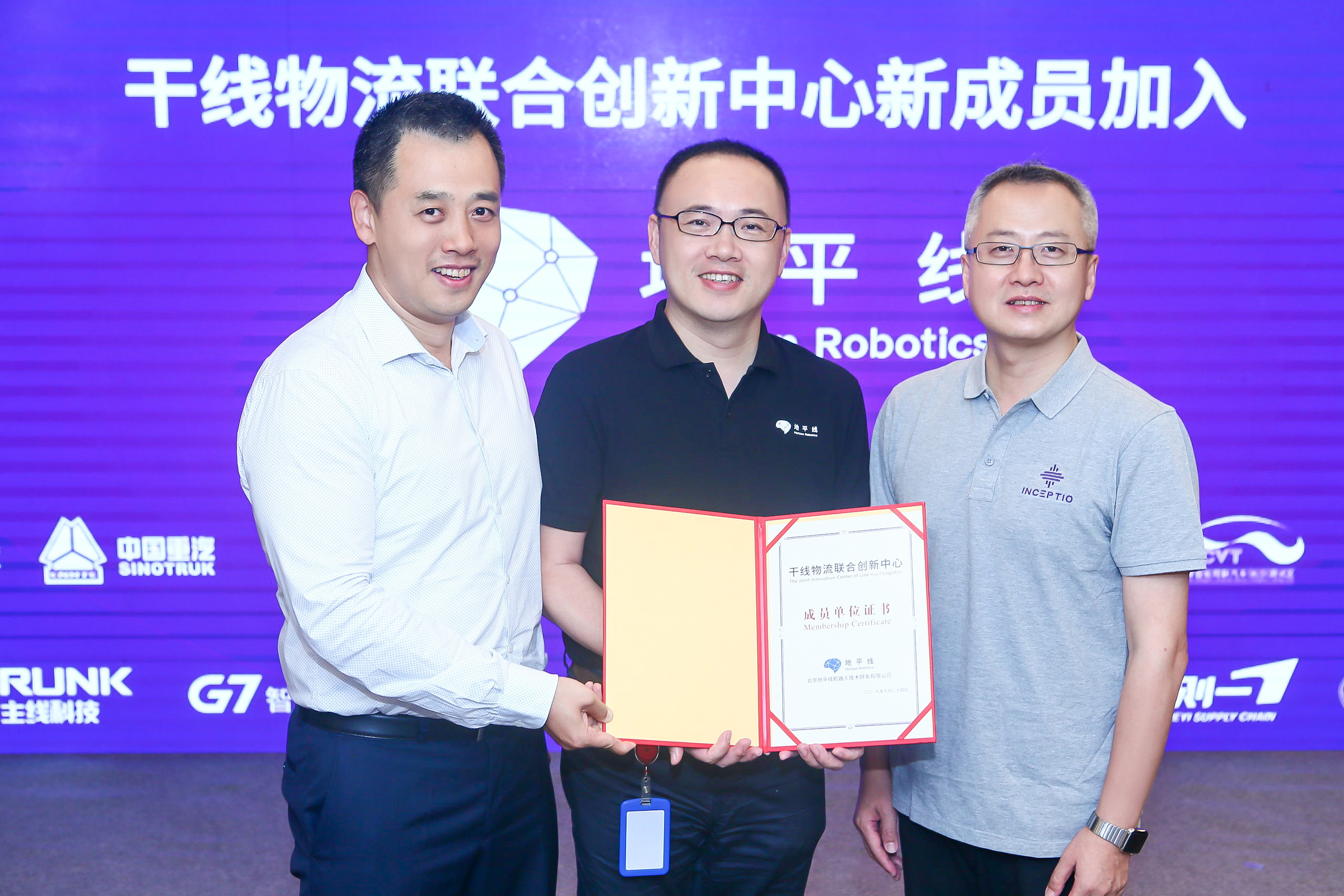 Horizon Robotics joins the Line-haul Logistics Joint Innovation Center 
(From left to right: Dr. Jian Xu, General Manager of Auto Innovation Park of Shanghai International Automobile City , Dr. Kai Yu, Founder and CEO of Horizon Robotics, and Julian Ma, Founder and CEO of Inceptio Technology)
Inceptio Technology and Horizon Robotics signed a strategic cooperation agreement on volume production at this event. The two parties will leverage on their respective expertise to jointly engage in R&D and accelerate the volume production of autonomous trucks. Horizon Robotics will leverage on its strength in AI chips and solutions to customize its solutions to accelerate the development and production of Inceptio Technology's autonomous trucks.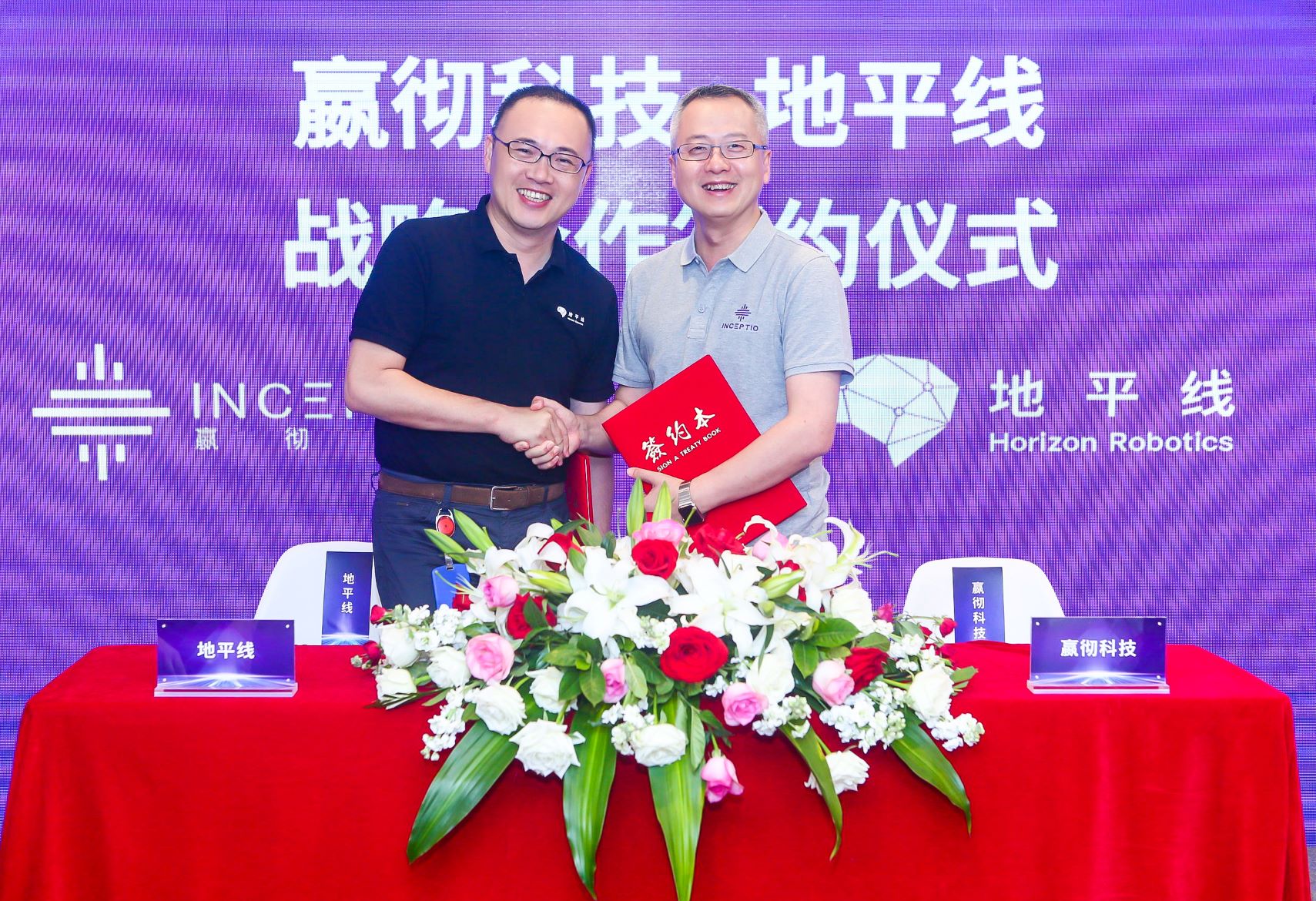 Inceptio Technology Reaches Strategic Cooperation with Horizon Robotics 
(Dr. Kai Yu, Founder and CEO of Horizon Robotics, and Julian Ma, Founder and CEO of Inceptio Technology)
Inceptio Technology Pioneers in Volume Production and Promotes In-depth Industrial Cooperation
Inceptio Technology unveiled its L3 demo truck, Inceptio One, at CES Asia in June this year. Blazing ahead with the goal of mass producing L3 trucks by the end of 2021, Inceptio Technology officially announced that it had signed volume production cooperation contracts with three leading OEMs, namely, SINOTRUK, Dongfeng Commercial Vehicles and Foton. Inceptio Technology also disclosed details of the progress made towards L3 volume production project in the past three months: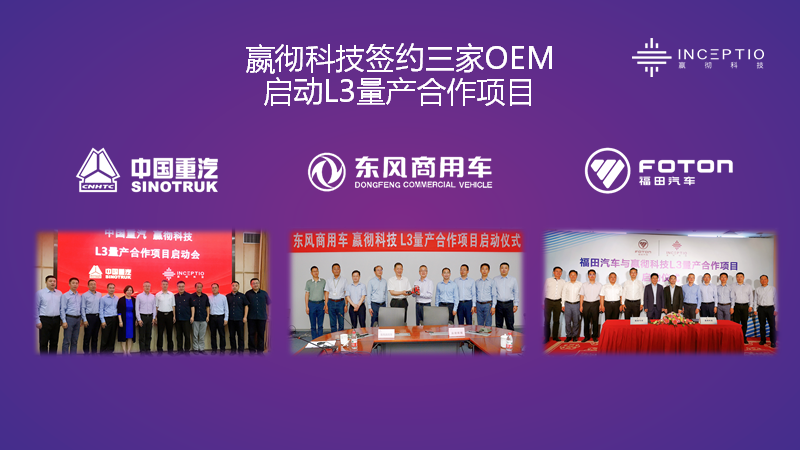 Inceptio Technology Signed Contracts with Three OEMs on Volume Production Cooperation Projects
 
In addition to the OEMs, Inceptio Technology started substantial cooperation with the world's top Tier1s, including ZF, WABCO and Knorr. Key technology concepts for volume production were developed and the corresponding technical and commercial feasibility have been verified by all parties. All parties are dedicated to invest R&D and human resources to further this collaboration. Inceptio Technology announced that its L3 demo truck A will be completed in the near future. This means the test of the drive-by-wire chassis from the OEMs, the integration of Inceptio Technology autonomous driving system, the matching of physical and functional interfaces of vehicles, and the preliminary verification will be completed soon.
 
Inceptio Technology Autonomous Technology Software System 2.0, which is based on meeting auto-grade and functional safety standards, has completed platform selection and architectural design. Inceptio Technology will work with top international and domestic technology suppliers in key areas such as chips, sensors and HD maps. At the same time, Inceptio Technology also started open road data collection along several trial lines in Shanghai, Guangzhou, Chengdu, and Wuhan. The data collected will facilitate sensor layout validation, perception algorithm data capture, scene simulation development and scene data processing.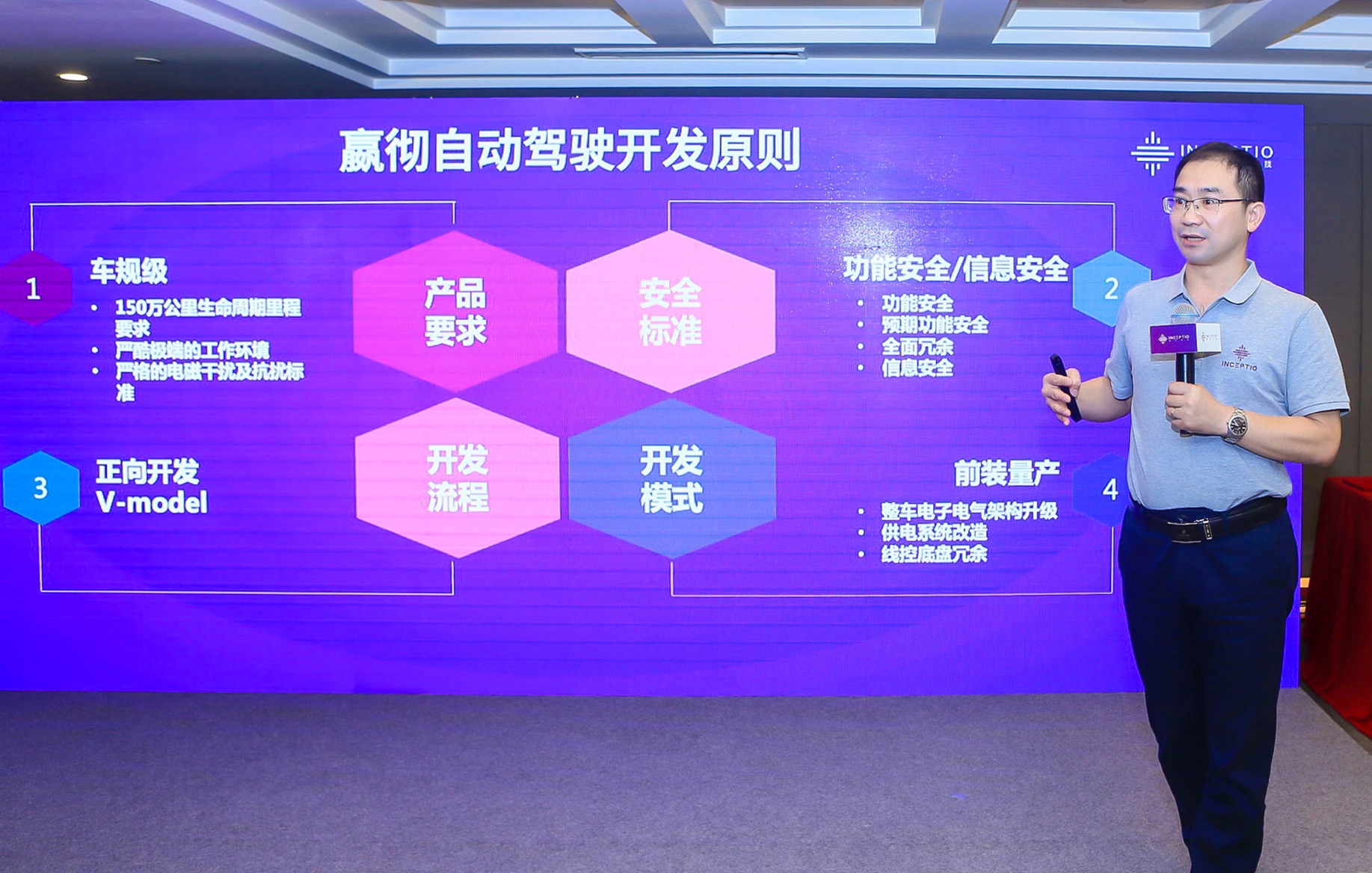 Introducing Inceptio Technology's Development Principles of Autonomous Driving 
(Gary Huang, Executive Vice President of Inceptio Technology)
Horizon Robotics Enters the Field of Line-haul Logistics
From the industrial-grade to auto-grade, from aftermarket-installation to OEM pre-installation, from Robotaxi to line-haul logistics, Horizon Robotics has developed rapidly on the commercialization of autonomous driving. At present, Horizon Robotics has obtained OEM pre-installed clients from 5 countries, and is expected to sign on more customers in more than ten countries in the first half of next year. In the aftermarket-installed market, Horizon Robotics has reached cooperation with many well-known travel service providers and operators at home and abroad. Customers include Shouqi Limousine & Chauffeur and SK Telecom. In addition, Horizon Robotics has provided domestic and foreign autonomous driving manufacturers and Robotaxi fleet for about 1,000 L4 autonomous vehicles. All these achievements are closely subject to its flexibility and openness in the cooperation and rapid response in customer service.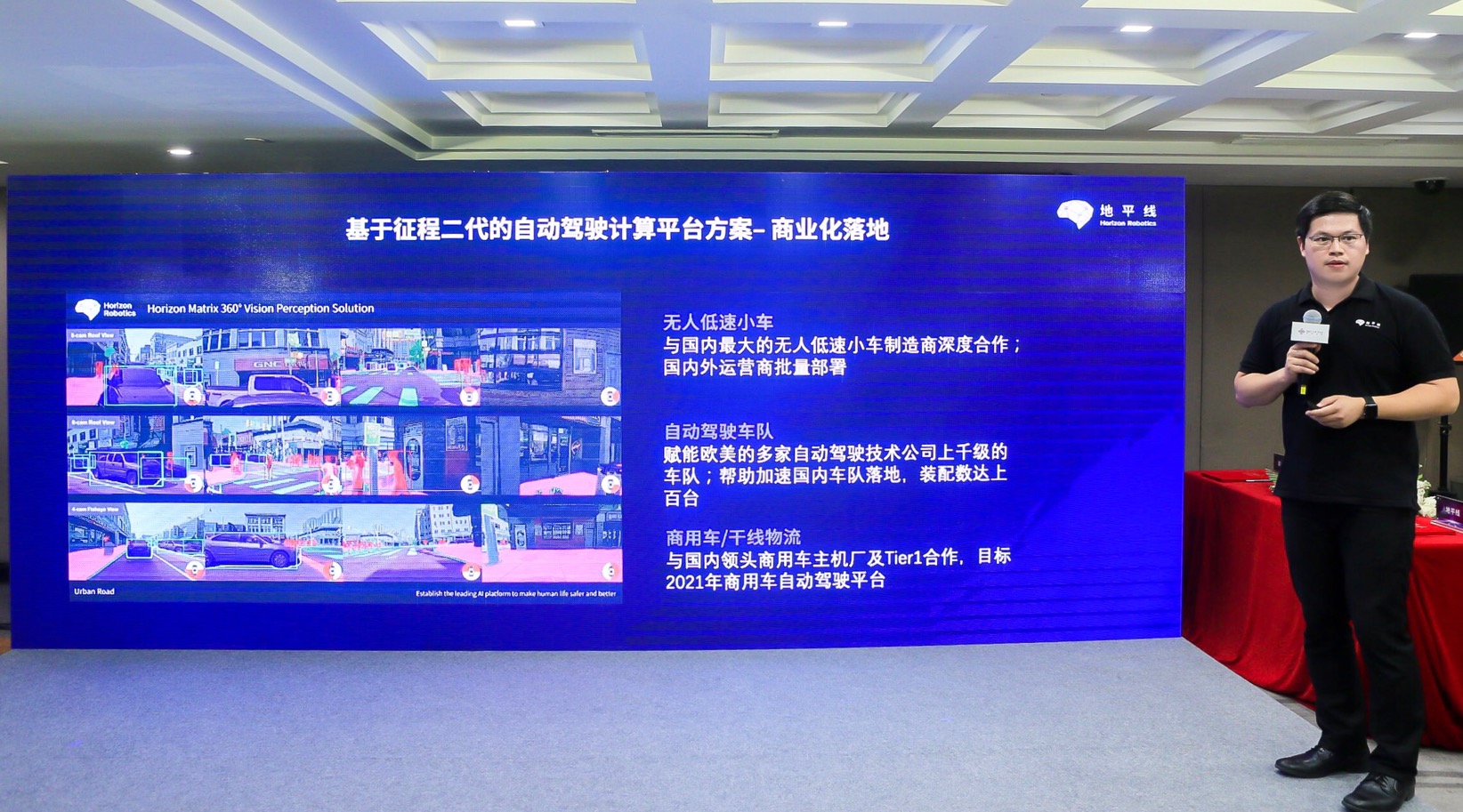 Horizon Robotics Shares Progress in Volume Production and Commercialization 
(Yufeng Zhang, Vice President of Horizon Robotics and GM of Smart Driving Product Line)

The market size of the line-haul logistics is up to trillions of dollars on year basis. It is widely recognized as one of the most promising market for scalable commercialization of autonomous driving. It has become a trend for the autonomous driving technology company, focusing on passenger vehicles to extend to the freight industry. This strategic cooperation between Horizon Robotics and Inceptio Technology marks Horizon Robotics's commercialization extended in line-haul logistics. In the future, Horizon Robotics will cooperate with leading OEMs, Tier1s, and logistics customers to jointly build an autonomous driving freight eco-system and accelerate the industrialization process of autonomous commercial vehicles.
New and Existing Members Exchange Practical Experience to Accelerate the Auto-grade Volume Production Process
The technical difficulty in autonomous driving and the commercialization demand have brought automobile manufacturing, technical services and commercial operation together. During the panel discussion session, members and guests of the Innovation Center from SINOTRUK, Horizon Robotics, RoboSense, NavInfo and Inceptio Technology shared their practical experience in OEM pre-installed volume production from the aspects of demands, technologies and products, as well as the challenges and solutions.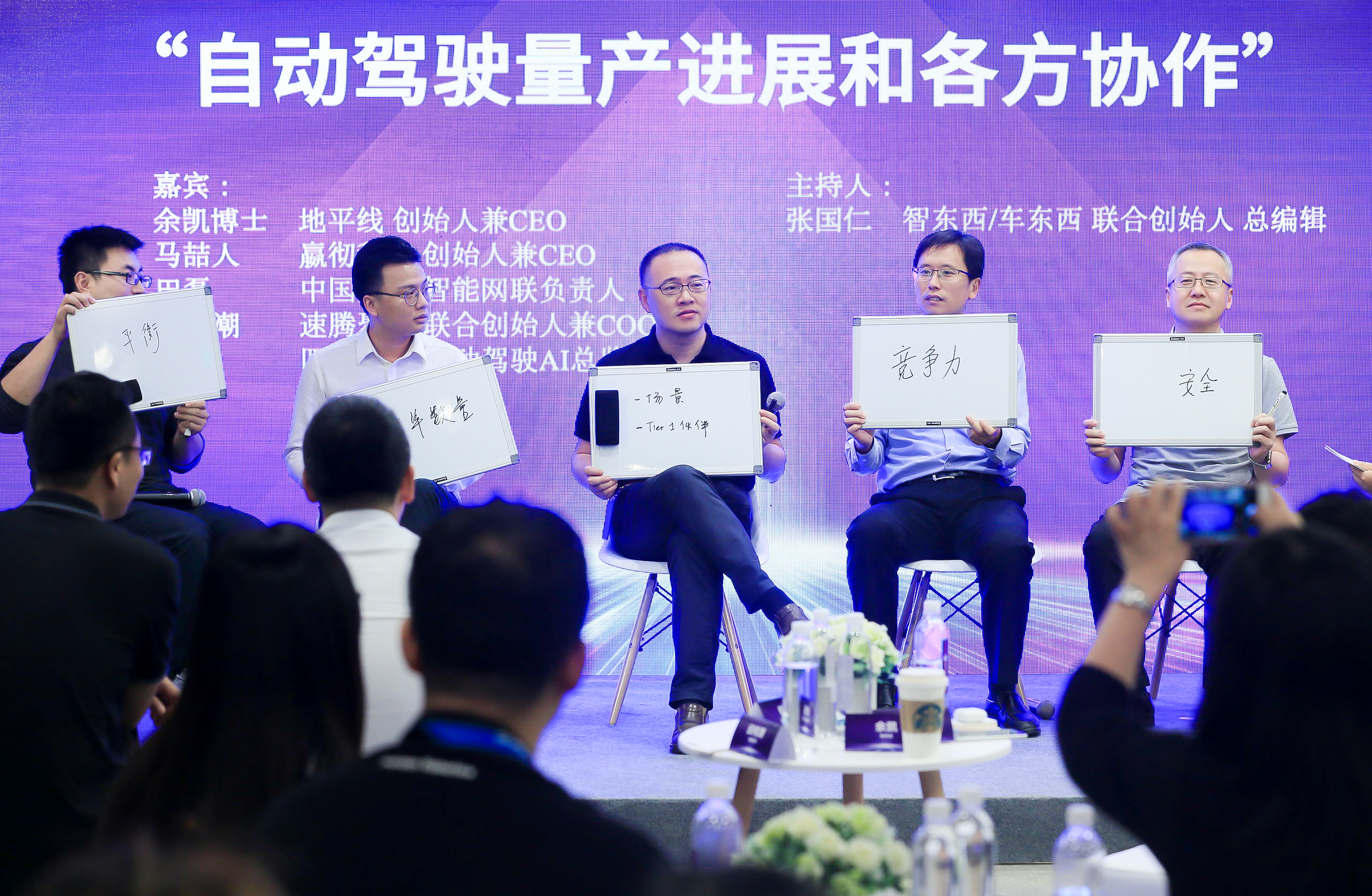 Roundtable Discussion 
(From left to right: Yang Li, Director of NavInfo Automatic Driving AI, Chunchao Qiu, Co- founder and COO of RoboSense, Dr. Kai Yu, founder and CEO of Horizon Robotics, Lei Tian, Head of SINOTRUK Intelligent Connected Development, and Julian Ma, Founder and CEO of Inceptio Technology)
【Further Reading】
The Line-haul Logistics Joint Innovation Center was launched in December 2018 by Inceptio Technology and Auto Innovation Park of Shanghai International Automobile Park. It aims to accelerate technological progress and commercialization of autonomous driving technology. It has become the most important industrial cooperation platform in autonomous driving of line-haul logistics in China. As of today, it has attracted 17 members, including SINOTRUK, Foton, FAW Jiefang, C&C Truck, ZF, WABCO, Velodyne, Horizon Robotics, NavInfo, TrunkTech, China's leading IOT technology company G7, Tencent Keen Laboratory, Shanghai Jiaotong University's Automatic Driving Laboratory, Zeyi Supply Chain, Hunan Xiangjiang Intelligent Technology Innovation Center, Inceptio Technology and Auto Innovation Park of Shanghai International Automobile City.