AI-Drive | 2018 Year-End Evaluation of China's Autonomous Trucks: 2019, Fight For The Throne?
2019-01-05
The autonomous driving is no longer just a concept--the fully commercialization of autonomous trucks has already been on the schedule.

The application of autonomous driving technology is a blue ocean waiting to be exploited, which many enterprises long for entering. Autonomous trucks are considered the most promising one to be commercialized first, since its business scenario is simpler and its market size is larger. In light of that, many enterprises are attracted to this market, intending to share the pie.

In just a few years, there has been a lot of enterprises flooding into the market, including automobile enterprises such as Volvo, Daimler, technology companies such as Google, Uber, PlusAI and other e-commerce giants.

In 2018, the competition around commercialization wasincreasing with various countries laying importance on developing the autonomous driving industry and improving the related regulations. The capital market also actively invested in this industry and more and more companies announced their road map of commercialization for the technologies.In the near future, the autonomous truck market was expected to open a new chapter with the improvement of supervision, infrastructure and technology.
In order to identify the future direction of autonomous driving, AI-Drive sorts out the development process of each domestic enterprise focusing on the autonomous trucks, divides it into 6 stages and interprets each of them in detail.

Domestic Enterprises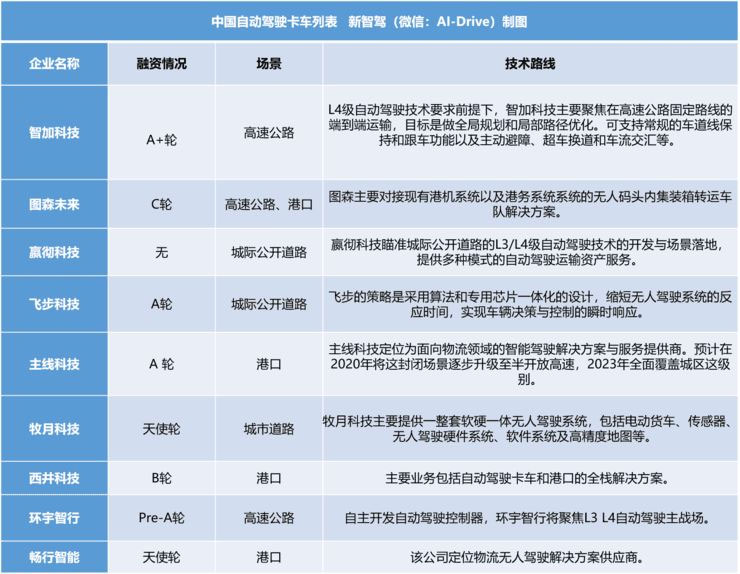 2018 was a milestone of autonomous driving. The deregulation of autonomous driving in the main countries and each giant in this field also increased the investment on R&D and sought innovation in business models.

According to industry speculation, before 2018, most of the autonomous truck enterprises were in the testing stage. But this stage lacked practical significance since even the truck performed well in the test, when applied in the actual road, it met a bunch of problems. But along with the improvement of related regulations, the practical significance would be very different. Currently, the autonomous driving is rising abruptly thanks to the introduction of relevant policies to back up the R&D of autonomous driving in more and more cities. With the whole industry thriving,the year of 2019 will witness who can take the throne.
PlusAI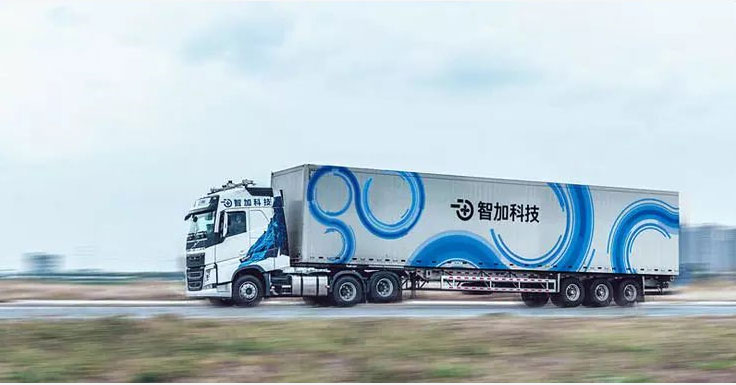 Established in 2016 and located in Xiangcheng District, Suzhou, PlusAI is a technology company inserted with Silcom Valley DNA. It runs operation or R&D centers in Silcom Valley, Beijing and Suzhou and more than 80% of its researchers graduated from the top university in China and in America, such as THU, PKU, Harvard, Stanford, CMU, UIUC and so on.

According to the year-end evaluation, PlusAI achieved an outstanding result through its continuous hard work.

In February, PlusAI finished the autonomous driving testing of FAW heavy trucks in closed venues on.

In March, PlusAI and FAW reached a deep strategic cooperation. The two companies agreed to develop commercial vehicles equipped with intelligent autonomous driving technology.
In April, PlusAI and FAW extended their cooperation bound, with FAW launched J7 whose technology was provided by PlusAI exclusively. Currently, the two companies keep on deepening their cooperation, aiming at exploring the solution of intelligent transportation in China.

In the downstream of the industry chain, PlusAI, together with Suning, completed the autonomous operation in a L4 "warehouse-to-warehouse" scenario in May.

"Warehouse-to-warehouse" is defined as a full coverage by autonomous trucks from a logistics warehouse to another remote one. The solution provided by PlusAI and Suning focused on overcoming the bottleneck that the autonomous driving technology is only applied to fragmented scenarios.

In November, FAW, PlusAI, Full Truck Alliance Group and NVIDIA reached a cooperation in R&D and commercialization of China's autonomous heavy trucks: PlusAI's L4 autonomous heavy trucks would be equipped with Nvidia Drive AGX Pegasus, an AI supercomputer whose computational horsepower was up to 320 teraflops per second. The cooperation would support PlusAI in the large-scale layout in 2021, promote the innovation of the industry chain of autonomous trucks and accelerate the upgrading of China's line-haul logistics.

In terms of financing, on November 15th, PlusAI completed Series A+ round funding led by Sequoia Capital China and set a goal of operating a fleet of 1,000 safe intelligent driving heavy trucks within 2 years.

In terms of technology, PlusAI made much progress in exploring the L4 autonomous driving technology. In sensing, PlusAI advocated multi-sensor fusion, including vision, lidar and millimeter wave radar, etc. Regarding positioning, PlusAI adopted multi-source information fusion, including global positioning based on global coordinate system + local positioning based on vehicle coordinate system. With regard to route planning, PlusAI mainly predictedthe behavior of the participants on the road to optimize the driving route and motion track. As for controlling, PlusAI worked hand in hand with its upstream partners to ensure the vehicle safety and model the dynamic characteristics of the vehicle based on big data.

In terms of commercialization, PlusAI cooperated with Suning and Full Truck Alliance Group in aftermarket. PlusAI was the exclusive strategic partner of Full Truck Alliance Group in the field of autonomous driving. They would work together to promote the commercialization of autonomous driving in the scenario of line-haul logistics.
In terms of long-term plan, PlusAI set a goal of operating a fleet of 1,000 safe intelligent driving heavy trucks within 2 years and was expected to continue launching testing vehicles. As can be inferredfrom its commercial layout, cooperation and financing, PlusAI seemed to become one of the top autonomous truck enterprises in China.
TuSimple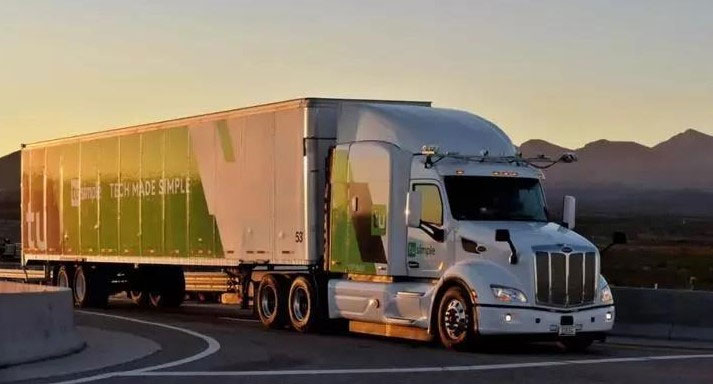 Established in 2016, TuSimple focused on independent R&D on the autonomous driving system of heavy trucks, with its R&D centers in both Beijing and San Diego, CA with more than 400 staff.

In terms of technology, the L4 autonomous driving technology developed by TuSimple was camera-based, combining with lidar, millimeter wave radar and other sensors. It could perform pixel level recognition for visual environments up to 1000 meters.

In terms of commercialization, TuSimple took the intercity transportation as a breakthrough point and it only took it 3 years from 0 to 1. It first formed a strategic partnership with its OEM, modifying control-by-wire trucks and releasing prototypes. Then, it held the first public demonstration of L4 autonomous trucks in China and announced to advance to the container truck transportation market in the port.

Currently, TuSimple has successfully completed the autonomous driving testing and trail operation in both China and America. It started to explore the commercial mode of autonomous driving by conducting a trial operation in American highways. Until now, it has completed 13000 hours of both real and simulated environment testing.

In terms of financing, in September 2015, TuSimple raised 50 million yuan in Series A Round; In October, 2017, Sina, NIVIDIA, and ZP Capital jointly invested $23 million in the Series B round. Meanwhile, NIVIDIA and TuSimple began building world-class L4 autonomous platform.

In terms oflong-term plan, given that TuSimple already equipped the transportation trucks in the port with safety officer, it was expected to achieve totally driverless condition at the end of 2019. At that time, there would be hundreds of driverless transportation trucks running in the port.
Inceptio Technology
Inceptio Technology was established in April, 2018. It is a joint venture of G7, China's largest commercial vehicle management platform, GLP and NIO Capital.

Since its establishment, the company focused on the development and the commercialization of L3 and L4 autonomous driving technology for vehicles on intercity public roads and providing "logistics as a service" under a wide range of models.

In terms of technology, truck platooning technology was the key technology of Inceptio. This technology could increase cost efficiency for the enterprises, reduce air resistance to cut down fuel consumption and gas emission, reduce drivers' labor intensity and therefore reducing the accident rate of driver fatigue. It could also react and brake immediately, which would help optimize road utilization.

The business model of Inceptio was to operate a national network of autonomous trucks to provide service for its logistics clients. Given this, Inceptio would focus on independent R&D on autonomous driving system and then apply it into the commercial vehicles.

According to the long-term plan of Inceptio, before accomplishing the ultimate aim of the national freight robot network, it currently aimed to bring its trucks to meet all requirements of L3, and reduce the labor intensity and risk of line-haul drivers by resorting to technology. It also aimed to be the first to achieve mass production of L3 diesel heavy trucks, whose prototype would meet the requirements of on-road testing in January 2019.
Fabu Technology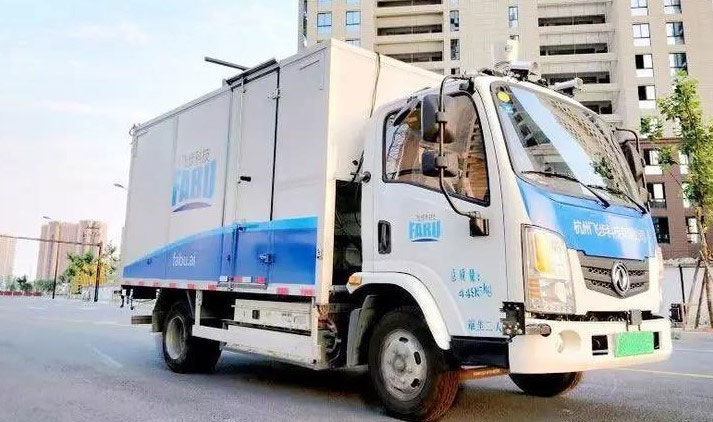 Fabu Tech. was established in August 2017, supported by top international VC firms. Fabu's groundbreaking AI technology offered a full-stack software and hardware platform in the vehicle, enabling autonomous driving from perception to fusion, to decision and control. Its founder and CEO Xiaofei He joined Didi Chuxingin 2015, served as the head of core transaction engine at Didi Chuxing Platform. In April,2016, he served as the first director of Didi Research. Later, he organized a team dedicated to autonomous driving technology in Didi. The other members in the team graduated from top universities, specializing in machine learning, computer vision, robotics, image video, controlling and automobile engineering.

Fabu aimed at entering the field of L4 driverless trucks. Its technical tactics were to shorten the reaction time of autonomous driving system by adopting an integrated design combining algorithm and dedicated chips. This would allow it to realize the transient response in both vehicle decision and control.

Currently, the driverless trucks modified by Fabu still employed universal chips. However, it optimized the vehicle performance by using AI algorithm and adopting pure electric vehicle platform. This would enable a more convenient modify-by-wire system and was also in line with the development trend of electrification.

According to Fabu's internal plan, by 2018, this company wanted to realize driverless trucks in intercity freight transportation and connect warehouses in different cities, reaching a goal of about 200-kilometer transportation mileage. By 2019, it aimed to realize driverless trucks in the freight transportation within cities, facing a more complex environment. By 2020, it would focus on overcoming the technical difficulty of inter-province freight transportation and then realize driverless trucks in inter-province freight transportation, reaching a goal of about 800-kilometer transportation mileage. Finally, by 2022, it planned to realize the universal L4 autonomous driving in full scenarios.
Trunktech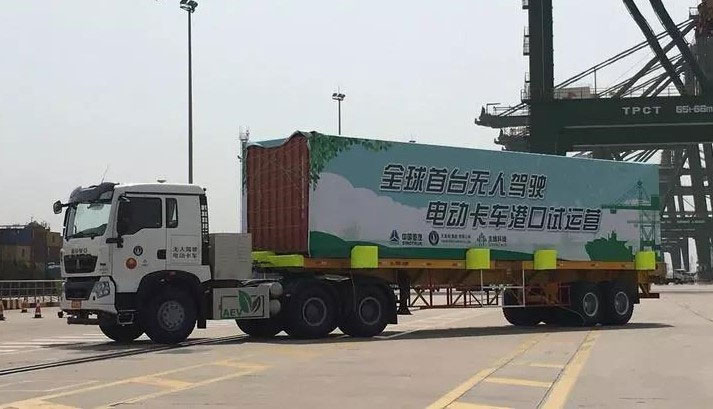 Established in early 2017 by a group of veterans in the field of driverless vehicles such as Zhang Tianlei, Li Bo and He Bei, Trunktech was guided by Dr. Li Deyi, a senior expert in the automobile academia. The founding team of the company used to participate in Baidu 5th generation driverless vehicle program and other programs sponsored by the fund committee, Baic Motor, Saic Motor, etc. With reference to Autonomous Staff, a provider of driverless vehicle platforms, they also introduced an exclusive R&D platform for driverless vehicles purely powered by electricity. The product has already been delivered to School of Transportation Science and Engineering, School of Computer Science and Engineering of BUAA and sensor suppliers to support R&D.

In the first year right after its establishment, the team enlarged to 50 members, and and still growing rapidly.

In terms of financing, on October 16th, Trunktech announced that it had completed Series A Round funding jointly led by Nio Capital, GLP Hidden Hill Capital, followed by Eastern Bell Capital.

Currently, Trunktech was positioned as a solution and service provider of intelligent driving for logistics clients. It developed a 3-step strategy, namely specific scenario, highway scenario and urban scenario and had reached comprehensive cooperation with Tianjin Port, GLP, Lingang New Town and other logistics companies in 2108.

As far as AI-Drive knows, Trunktech was planning to promote its intelligent driving products to the entire logistics process in next 5 years. Also, it was expected to advance the blocked scenarios to semi-open scenarios by 2020 and it planned to cover the urban area by 2023.

Besides, Trunktech would continue to push for the transformation from the L4 autonomous driving in limited scenarios to L3 autonomous driving in open line-haul logistics, and eventually realize the leapfrog of L4 autonomous driving technology and industry in general logistics scenarios.
MoonX

MoonX was established in June, 2018, whose founder and CEO Qingxiong Yang used to serve as a R&D VP and chief scientist in WeRide, and the senior director (driverless vehicle) in Didi Chuxing.

Until now, MoonX already had more than 40 staff. Its first testing vehicle was introduced in late July, 2018. In mid-August, the vehicle started its testing on public road. In September, it could run by itself on the public roads in a 10 square kilometers area without manual intervention. Also, it completed driverless operation with traffic-jam-vehicle-following technology, parallel technology, lane-changing technology, obstacle-avoidance-and-overtaking technology, turning technology, crossroad-and-complex-intersection-crossing technology.

In terms of financing, in October 2018, MoonX announced that it had raised 50 million RMB in angel round in June 2018. The funding was led by Legend Star, followed by its strategic partners in logistics. Baize capital served as an exclusive financial advisor in MoonX.

Currently, MoonX has already completed the modification of multiple vehicle models, and accomplished the on-road testing in various scenarios.

In the future, MoonX planned to provide a full-stack software and hardware driverless system, including electric trucks, sensors, driverless hardware system, driverless software system and high precision map, to meet different needs of logistics clients.
Westwell-lab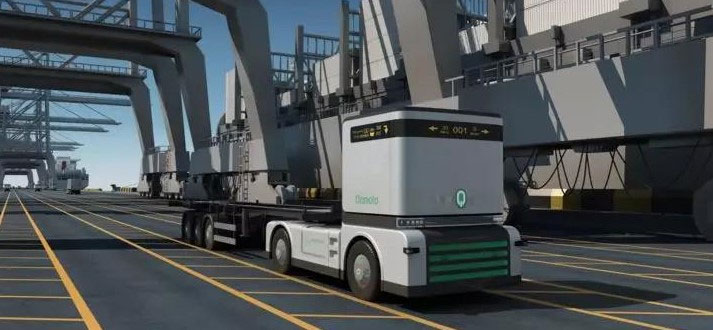 Established in 2015, Westwell-lab started with AI chips business, then tapped into the smart port business. After that, it marched into the field of autonomous driving in the blocked scenarios.

In terms of financing, in July 2017 Westwell-lab announced the completion of Series A Round funding, led by Fosun Tonghao Capital.

In September 2018, Westwell-lab introduced a new autonomous brand called Qomolo and launched Q-Truck, claimed as "the world's first truly all-powered driverless electric heavy truck". This model was expected to be applied in ports, logistics parks, mines, highways and other scenarios.

In terms of commercialization, in August 2018, Westwell-lab signed a contract of autonomous miner's trucks with Tibet Summit to provide a full-stack software and hardware solution. They would work together to create brand new products such as new energy AI autonomous transfer vehicles, AI control systems and AI image recognition smart monitoring management systems in the mine, AI autonomous vehicles and AI autonomous mining equipment in the mineshaft.

In the future, Westwell-lab would opt to cooperate with domestic large OEMs, break through the industry chain from upstream to downstream and improve its core competitiveness in autonomous driving.
In-Driving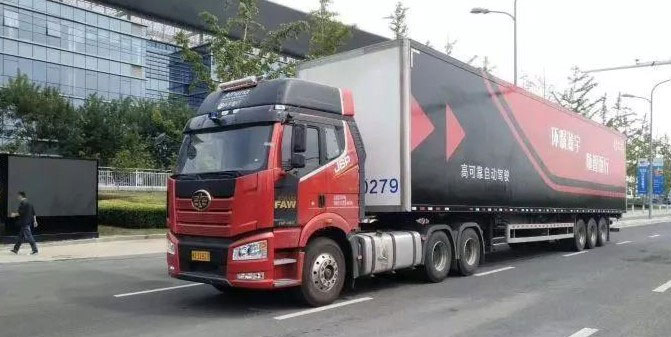 Established in 2014, In-Driving was a company focusing on providing autonomous driving solutions, products and technology services. Its main application was in the field of Internet + smart transportation, 5G smart transportation network and highly reliable autonomous driving platform with its independent R&D on autopilot. It focused on L3 and L4 market and introduced TITAN III + ATHENA, a full-stack software and hardware autonomous driving system, in 2018.

With regard to the hardware, In-Driving introduced TITAN III, an autopilot in June 2018. Based on the TX2 design of NIVDIA and using UBUNTU operation system, this product supported multiple hardware interfaces such as USB, CAN, RS232, Ethernet, AD/DA, etc. and could access 12 cameras, 6 lidars and 5 millimeter wave radars at the same time. Moreover, TITAN III also had the advantages of small size, chip-level algorithm integration, highly reliable vehicle standard and low power consumption.

In terms of financing, In-Driving raised 20 million RMB in 2017 and then closed 30 million RMB in the Series Pre-A Round funding in 2018.

In the future, In-Driving would introduce TITAN 4 in early 2019. This model would use Xavier chip which was newly developed by NVIDIA. Xavier had already been approved by ISO26262, which implied that TITAN 4 would reach a vehicle-standard level, in line with the version that NVIDIA original factory provided to Mercedes-Benz to use in driverless taxis. Of better processing power, with 30 trillion calculations per second, and lower power consumption, Xavier had an energy efficiency that was several times higher than that of the previous generation.
Changxing Zhineng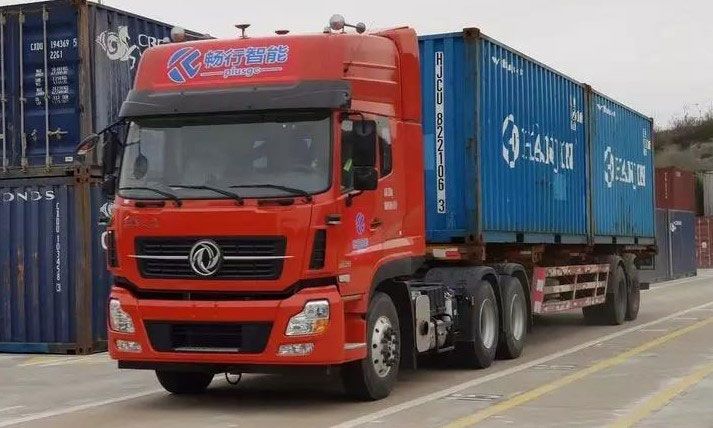 Established in September 2018, Changxing Zhineng had joint labs in both America and Europe, R&D centers in both Beijing and Suzhou. The core team members of Changxing Zhineng graduated from Suzhou Automotive Research Institute, Tsinghua University. Changxing Zhineng mainly provides L4 full-stack software and hardware autonomous driving solutions, including smart plugins, motion controllers and core controllers.

In terms of core technology, Changxing Zhineng, poisoning itself as an autonomous driving solution provider in logistics, has the technology that can realize precise parking and anti-seismic, cope with some bad weathers, dock with port management system, operate in 3 shifts, each of which last for 8 hours, and position the truck in the case that the metal container shielding Beidou Signals.

In terms of commercialization, a container truck equipped with the autonomous driving solution provided by Changxing Zhineng had already conducted trial operation in ports in Ningbo for 6 months. An electric container truck also had been developed and tested in ports and logistics parks in Suzhou for nearly a year.

In terms of financing, in December 2018, Changxing Zhineng announced the completion of angel round funding led by Future Capital, raising more than 10 million RMB. The funding in this round would mainly be used for technology development and trial operation in ports and logistics parks.

According to Changxing Zhineng's plan, it would continue the trial operation in Ningbo Port, develop autonomous algorithm, extend to more domestic and international ports and tap into the field of logistics transportation.
The autonomous trucks are licensed to run on road?
2018 saw the comprehensive development of autonomous driving in China. The government increased policy support, among which Beijing opened 44 testing roads for autonomous vehicles with a total distance of 123 kilometers. Internet companies and automobile enterprises worked hand in hand to create the prosperity of autonomous driving technology. Besides, the demand for autonomous trucks from logistics and transportation industries was rising. To some extent, it was the glory age for autonomous driving.
1. PlusAI won the first on-road testing license for autonomous operation trucks in China
On November 30th, Changzhou Jiangsu, PlusAI, a leading company in the field of driverless heavy trucks, announced that it had won the first on-road testing license for autonomous operation trucks. It was said that PlusAI would conduct routine tests on public roads in Changzhou, Jiangsu after it won the license.

As one of the first technology companies that won the on-road testing license for autonomous driving issued by DMV, PlusAI were experienced in testing, with DMV test data among the best.
2.TuSimple won the first on-road testing for autonomous trucks in China
On October 16th, 2018, China's first license for autonomous heavy trucks was issued in Shanghai. It was won by TuSimple, which would conduct tests in Shanghai Lingang Area.
Tusimple had been conducting tests on autonomous trucks on the American highways since it won the on-road testing license for autonomous driving issued by DMV in 2017. Since August 2018, it started its autonomous commercial operation on the US I-10 highway.
3.Inceptio won the first test permit for autonomous heavy trucks on line-haul logistics in China
On November 28th, the first test permit for autonomous truck on line-haul logistics in China was issued to Inceptio Technology by the Smart Traffic Demo City Steering Committee in Baoding, Hubei Province Upon receiving the permit, Inceptio would shortly kick off full test on the designated open roads.
It doesn't matter whether the cat is black or white, as long as it catches mice.
Among the licenses, it doesn't matter whether it's the first one or the first batch, it also doesn't matter whether it's a license for autonomous operation trucks or line-haul logistics. what matters is that the issuing of these licenses indicates the government's strong support to autonomous driving technology.
Starting from L4 domestic autonomous driving truck, is it possible?
Looking at domestic enterprises engaged in autonomous driving trucks, we can find that their positionings are L4 level autonomous driving trucks, then it may raise a question, how advanced these enterprises' technology are.

Autonomous driving refers to the technology that enables the vehicle to have technologies of environment perception, path planning and autonomous control, that is, to realize the vehicle's humanoid driving or autonomous driving with electronic technology.

According to the system control degree of vehicle tasks, Society of Automotive Engineers (SAE) divides the autonomous driving technology into L0-L5. At the L1-L3, the system mainly plays auxiliary functions and when it comes to L4, the vehicle driving will be completely entrusted to the system. The difference between L4 and L5 lies in the application in specific and full scenario.

Autonomous driving is not a technology that can be accomplished overnight andthe underlying data and system are extremely important. For example, Adaptive Cruise Control(ACC)、Autonomous Emergency Braking(AEB)、Lane Keeping Assist (LKA) are key components of the autonomous driving system. Many foreign mass-produced passenger vehicles and commercial vehicles adopt these kinds of technology, which are classified as L1 and L2 according to standards.

The autonomous driving system is divided into perception layer, decision layer and execution layer. L4 autonomous driving system needs to implement perception of surrounding obstacles, vehicle positioning and path planning in order to achieve complete control over vehicle in a specific area. To realize these functions, three layers of technical architecture, namely, the perception layer, the decision layer and the execution layer,which represent "eyes and ear", "brain" and "limbs" of L4 autonomous driving system respectively need to be builded. respectively.

To analyze commercial application scenarios of L4 autonomous driving, the following factors should be taken into consideration:

Working environment: the driving environment should be as simple as possible, and the working process should be as standard as possible. The higher the degree of standardization, the easier it is to reflect the advantages of autonomous driving in improving operation efficiency.

User and Supporter: the initial investment cost of autonomous driving system is really high.So it needs a strong user or supporterto fund and maintain a professional operation team for the autonomous driving fleet. Currently the hardware devices of L4 autonomous driving are expensive, generally including: 6~12 cameras, 3~12 millimeter-wave radars, 5 or less laser radar, 1~2 GNSS/IMU and 1~2 computing platforms (sensors with different focuses will be selected for different programs).

Cost advantage: Autonomous driving system can improveuse efficiency of vehicle. Theoretically, it can achieve all-weather drivingas well as reduce fuel, insurance costs and other operating costs.

As for the time of commercial application, part of the products below L3 have started landing, while the present L4 autonomous driving projects are still in the test stage. However, in 2019, multiple L4 autonomous driving commercial projects in specific scenario will gradually land. In terms of implementation difficulty, L4 autonomous driving will first land in specific closed scenarios such as ports, mining areas and parks which have relatively simple driving conditions and high error-tolerant rate . But on highways and urban roads, achieving driving commercialization will be extremely difficult, because these road situations in these environments are more complex than closed districts.
Policy support
With the constant expansion of industry scale and acceleration of commercialization process, unpiloted driving trucks have also aroused controversy over the impact on employment. High-level unpiloted driving (L4-L5) means that most truck's operation is dominated by the system andthe concept of driver will disappear. Then,driver's unemployment will follow.

For news abroad, on March 26th, 2018, the Federal Motor Carrier Safety Administration (FMCSA) solicited public opinions in the Federal Register, asking the public to make suggestions for updating, modifying or canceling existing terms of Federal Motor Carrier Safety Regulation (FMCSR), so as to apply the autonomous driving system to commercial vehicles safely.

In China, more than 16 million truck drivers now work in the transportation industry, which undertakes 76% of freight traffic volume and creates a $300 billion industry. The future popularity of unpiloted driving trucks is bound to make a huge impact on truck drivers.

At the same time, China attaches great importance to the development of autonomous driving and intelligent connected vehicles, regarding them as a prerequisite for automobile industry updates. In 2015, China listed the intelligent connected vehicle as an important sector of national intelligent manufacturing development in the next decade, and subsequently issued the "Technology Development Roadmap of Intelligent Connected Vehicles in China" in 2016 as the guidance to develop autonomous vehicle technology and the industry. "The Development Plan for The New Generation of Artificial Intelligence" in 2017 further specifies the strategic goal of putting autonomous driving technology into practical application gradually. In January 2018, the National Development and Reform Commission (NDRC) released the "Innovation and Development Strategy Plan for Intelligent Vehicles (draft for public comment)". It is pointed out in the plan that by 2020, the proportion of new intelligent vehicles in China will reach 50%. The middle and high-level intelligent vehicles will realize the marketization application and demonstration operations in key areas will make certain achievements. Besides,the construction of intelligent road traffic systems will make positive progress and automobile wireless communication networks LTE-V2X) coverage in large cities and highways will reach 90%, etc.

Butthere was no obvious impact from those outline plans onthe development of autonomous driving trucks. Therefore, industry experts put forward the following two suggestions:

Accelerating legislation on autonomous driving vehicles. Current traffic laws of China have not defined the legal status and driving standards of autonomous driving trucks, which should be regulated and guided from the aspects of production license, product standards, safety management and road test standards, etc.


Set standards. At present, China's autonomous driving technology standard system has not been established and there are some problems such as lack of standards or standards lagging in automobile intelligent devices and systems. It is necessary to organize experts in related fields to accelerate the establishment of standardization system framework.
Truck drivers won't lose their jobs!
One of the major concerns about AI and automation is that it could take away human jobs. It means if trucks could achieve fully autonomous driving, they could replace truck drivers.

Previously, Yonghui Sun, the chief engineer of Uber's autonomous driving truck, mentioned that the realization of autonomous driving truck was a long process, which would not happen in the next 3-5 years. It might take 5 years, 10 years, 20 years or even longer.

For enterprises, they must cooperate with truck drivers, labor unions and people who depend on this industry for their daily lives and understand their needs. Enterprises need to evolve the nature of this job and make sure that their technology can support this industry. Autonomous driving enterprises aim to assist and improve livelihoods of people rather than depriving them.

Due to the rapid development of the logistics industry,there is a big labor shortage of truck drivers. According to the American Trucking Association, as many as 240,000 vacancies for truck drivers are expected in 2022. While not every driver cando this job well.

Obviously, long distance driving is quite normal for truck drivers. They usually work under great pressure, which is likely to cause serious traffic accidents. Therefore, it is ontrend to replace truck drivers with autonomous driving trucks in the long run.

Of course, with the development of autonomous driving trucks technologies, truck drivers will inevitably be replaced gradually. In addition to "staying" during the transition period, more truck drivers will transform into safety officers, maintenance workers, general technicians and managers or other industries.
Burning questions
In recent years, countries around the world have been making continuous efforts in the field of autonomous driving vehicles, hoping to get the admission ticket to the global competition of the automobile industry first in the future.

Compared with urban traffic, road transportation has the characteristics of single environment and huge economic benefits. Autonomous driving trucks therefore become an important part of the strategic layout of various countries. Traditional automobile enterprises and emerging intelligent driving enterprises are stepping up the landing deployment schedule of autonomous driving trucks, claiming to achieve mass production around 2020.

However, autonomous driving trucks are also facing considerable challenges. Industry participants said that currently the development of autonomous driving truck was still in the early stage. For example, in terms of policy, autonomous driving didnot have worldwide explicit legal provisions, many countries even didn'tallow autonomous driving vehicles to drive on the road, let alone autonomous driving truck testing on the highway; in terms of technology, at present, players in autonomous driving industry mainly concentratedon passenger vehicles, and there werevery few solutions customized for trucks; In terms of capital, autonomous driving wasa costly project. As a result, the entry threshold for the autonomous driving truck wasrelatively high, and no large-scale production and usagecouldbe achieved at this moment.

In addition, security remains one of the biggest challenges for freight transport. In the United States, deaths from freight transport accidents account for 13% of highway fatalities. In the future, increasing demand for freight transport in metropolitan areas possibly triggers more accidents in freight and passenger transport.

Finally, dealing with the safety problems caused by the weather is also a huge challenge. About 22% of car accidents happen in bad weather, such as rainy days, sleety days, snowy days, foggy days, severe crosswinds, sandstorms and mudslides, etc. In addition, freight enterprises waste about 32 billion hours a year in weather-related traffic jams in nearly 300 U.S. cities and the cost of weather-related delay ranges from $2.2 billion to $3.5 billion every year.

In this way, the development of autonomous driving trucks is still under considerable pressure. But it is undeniable that with the maturity of autonomous driving technology, there are more and more favorable conditions and we have reason to believe that in the near future, autonomous driving trucks can undertake more transportation tasks.
The development of autonomous driving trucks are getting better
The market for autonomous driving trucks is full of potential to make a fortune. At present, whether in China, or in the United States and other developed countries, there is an increasing demand for those trucks.

According to relevant statistics, China's demand for heavy trucks alone is about 6 million. In addition, the market share of China's domestic truck is very solid and stable, compared with the performance of domestic commercial vehicles. As a result, China's autonomous driving trucks market is highly anticipated.
Moreover, the commercialization of autonomous driving trucks will bring significant opportunities, whether in terms of application scenario requirements or in terms of cost control and traffic safety improvement. According to the analysis of industry insiders, time for mass production of autonomous driving trucks is expected to be around 2020 and the landing application and large-scale production will definitely precede that of autonomous driving passenger vehicles.

Autonomous driving industry is a patent-intensive industry. In all, domestic autonomous driving truck enterprises represented by PlusAI are gradually narrowing the gap with foreign technology enterprises and trying their best to catch up. It isbecause this is a war of life and death.Looking forward,local autonomous driving technology enterprises will mostly likely achieve satisfying results in the next few years.